On Amazon, anyone can start a business that will generate high and consistent income in a relatively short time. Statistics show there are almost 10 million total sellers; however, only around 20% of these have actively listed products for sale. It means there is still plenty of space in this marketplace for new sellers. The most crucial point is to choose the right niche and products for wholesale or arbitrage.
Methods of Amazon Product Research
Earlier, product sourcing was a living hell. It was difficult to analyze huge catalogs of suppliers and near to impossible to choose those suitable for a prosperous business. Thus, sellers had to spend days and weeks in search of the best items.
Amazon itself also offers sourcing tools that will be useful in finding new niches, setting competitive and profitable prices, tracking other sellers' items, and summarizing market data. Still, you will again spend day and night analyzing all the information you've gathered.
But the good news is that you don't have to go this hard way. With an increased number of sellers and stringent selling policies, it is important to understand that those old tricks of finding products are no longer going to work out in the current scenario. If you want to be successful in this market, using the best-suited sourcing tools will be the key to your success.
In this post, we present the top 6 Amazon tools for product analysis to help you design and implement your business strategy.
Helium 10
You may compare this website's product research tool to a Swiss knife as it has all the basic functions to create a good listing. The Helium 10 set of instruments enables you to study the category thoroughly, track your competitors with the same item, collect as many keywords as possible. We should mention the Black Box, Helium 10's product finder and research tool. It uses smart filters to search by price, amount of sellers, product category, and approximate monthly revenue.
Helium 10 performs searches within one category which is its peculiarity and, rather, a downside. The reason for this is that Amazon may sort out products into categories in an illogical way. Sellers can use the tool as an assistant in reaching the final decision, and for enhancing and filling your listing with good keywords.
The Chrome extension makes part of the set as well. On the item page, it offers you to calculate revenue in a separate window.
Free Trial (without expiry date): Actually, the Free Trial is very limited – you are allowed to use each feature only twice a day. So, the free version looks like a trial as most of its instruments are limited in the number of uses or in the time of usage.
Price: the price of the cheapest optimal version starts from $ 39, although even this version has limits on its features and their time of usage. More or less appropriate and working versions cost from $ 99 to $ 199 (you receive a 20% discount for paying for the whole year at once)
AMZScout
AMZScout is another useful tool to sell on Amazon, its web app is armed with 44 top-notch filters so that you can adjust to your needs for in-depth product data research. You just need to type the keyword or product ASIN, and AMZScout will identify the sales capacity of this item based on its historical data. In this way, the tool tracks the sales performance of a particular item allowing you to see what niches and products are the most profitable.
With Pro Extension, sellers can see what products gain or lose popularity in the marketplace. This version also provides the data on item competitiveness and enhances your current listings.
Among some other useful features, we may mention:
Product Database and Tracker enable sellers to come up with the best product ideas within a particular niche and track them daily.
Keyword Search collects the optimal keywords to enhance your listings and draw more customers.
Keyword Tracker monitors their rankings so that sellers include only the best ones in their listings.
Price: from $ 16 to $ 29
Jungle Scout
JungleScout is suited to all Amazon sellers regardless of their experience. Sellers can leverage its vast Product Database with over 70 million products to keep track of the needed ones and compare them with those of your competitors.
This multifunctional tool will assist you in choosing the best keywords as well. Keyword Scout provides sellers with high-converting keywords, the ones your competitors are ranking for, and the bids for Amazon PPC and HSA advertising. Rank Tracker monitors keyword rankings over time to see their performance in the past and today.
Using Opportunity Finder, you'll be able to search for high-demand and low-competition keywords based on their sales performance, emerging trends, and competitive insights.
Extension price: $ 49 / month
The subscription price ranges from $ 69 (with the limitations on the number of inquiries) up to $ 129 (20% discount if you pay for the year ahead)
ScanScout is a radically different tool, as it is equipped with the features that you can't find in other tools of the kind. It has become an essential sourcing tool for Amazon arbitrage sellers and those interested in selling hundreds and thousands of various products on Amazon.
Its three principal features are as follows:
1. It has Chrome Extension which performs an in-depth analysis of each product based on 50 parameters. The extension also has a built-in FBA calculator and makes it possible to add the products you liked to the Seller Panel.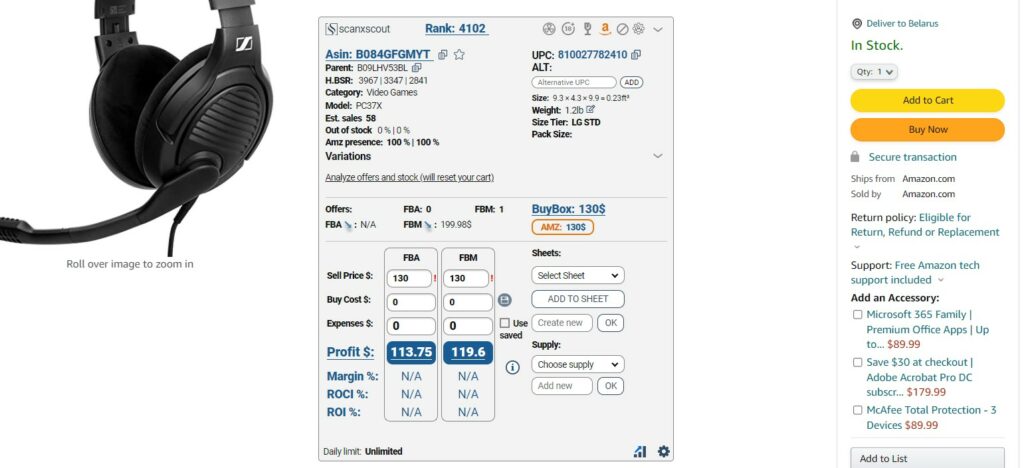 2. Bulk Analyzer – another instrument enables you to decide quickly what items from the supplier's catalog are the ones you are looking for. Imagine you've found one or several suppliers. Now you have to decide on what product you will ask them to produce for you and whether your cooperation will be mutually beneficial.
At this step, ScanScout acts as the best assistant for Amazon sellers. It will take from several seconds up to a couple of minutes to go through a catalog with thousands of items, collect product data and perform the analysis. As a result, in several minutes you have a comprehensive picture of what items are the most and the least cost-effective. You can see the profitable product right away, and the advanced filter will help you choose the ones suited best to your business.

3. Product Tracker (also known as Product Update) keeps track of the products you are interested in. At any time, you can re-calculate potential revenue, check the current prices and other product parameters. Unlike other sourcing tools, ScanScout doesn't impose limitations on the number of inquiries. Instead, you are free to check as many products as you want and whenever you want (the limitation on inquiries is 20 000 times).
The free version allows sellers to leverage the full range of its instruments with the only limitation on the number of inquiries per day.
Price: Paid extension version costs from $ 5 per month
The version with the full set of instruments costs from $ 49 to $89 per month.
AMZBase
It is an instant product research tool that allows you to get the description of the ASIN and the listing's title. AMZBase opens doors to a broader search base by providing access to other search engines.
The tool has a Chrome extension that shows the ASIN, finds the same product on Alibaba, eBay, and Amazon marketplaces, and creates a link for searching the item in Google. AMZBase will be useful for those sellers who came across an interesting product on Amazon and are in search of a supplier. Unfortunately, we haven't discovered any other helpful features.
Price: free
The Takeaway
Well-performed product and market research will clear the challenges so that you surpass your competitors as an Amazon seller. Thus, we introduced you to six sourcing tools that will be go-to assistants in selecting the most profitable items and boosting your Amazon business. Just choose the best tool that suits your needs and goals, and make a new step on your Amazon business path.